June 4, 2022 – Seven paddlers on today's eco-educational outing set out to explore the first 10 miles of Florida's Chipola River Paddling Trail. The Chipola River flows nearly 92 miles through northwest Florida's "Karst" region, terminating at the Apalachicola River. The area's beautiful limestone topography of hills, bluffs, caves, and springs has been carved out over many millennia through weathering by acidic water. The Chipola Paddling Trail covers 52 of the most scenic miles of the river
We put in at Mile 0 of the trail, near the Yancy Bridge, just downstream from Florida Caverns State Park. The Chipola goes underground through the park and emerges above the bridge. The river overlays the enormous Floridan Aquifer, which supplies 63 freshwater springs along the Chipola's course.
We got to explore some unique Karst features at the Ovens, which is the name given to a large dry cave that opens onto the river a few miles down from the put-in. The cave entry was rocky and not the easiest to land on, but most of us landed anyhow and pushed into the cave as far as the daylight would allow.
We broke for lunch and a (very) cooling swim at Maund Spring. The day was sunny and warm, but much of our route was shaded by cypress and hardwoods. Nonetheless, the dip in Maund was a welcome respite from the heat.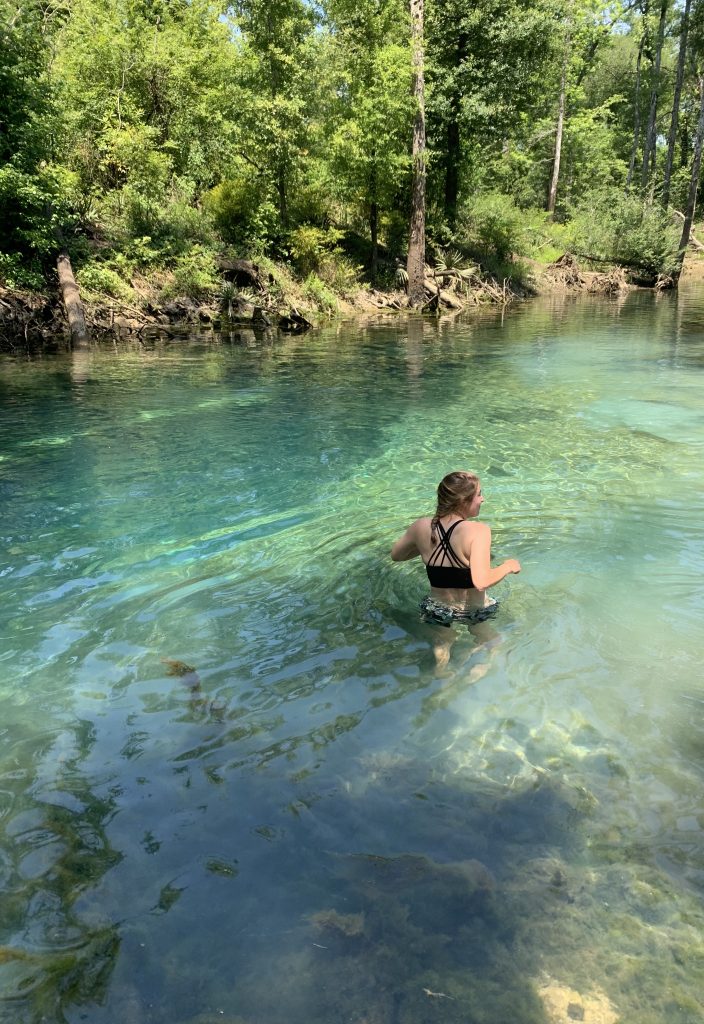 Further downstream at about mile 8 of the trail, we entered Spring Creek and made our way fifty yards up against a strong current. That creek is the spring run from Merritt's Mill Pond and is a popular route for recreational "tubers" (no, not potatoes). On this sunny weekend day, we met hordes of yellow tubes drifting from Spring Creek to the take-out at Magnolia Bridge.
This proved to be a spectacular paddle, full of birdlife, turtles, hardwood and cypress forests, and Karst terrain unlike any I've seen in Florida. It was a day well spent indeed.
John Alber, a volunteer and member of Apalachicola Riverkeeper lives in Apalachicola, Florida. He is paddling with this year's RiverTrek team.
See the full album here.  View more Eco-Outings.