Staff
Cameron Baxley, Riverkeeper
[email protected] 
(850) 323-0760
Georgia Ackerman, Executive Director 
[email protected] 
(850) 321-6262
Dani Davis, Outreach Director 
[email protected] 
(850) 653-8936
Susan Macken, Administrative Director
[email protected]
(850) 653-8936
Cameron Baxley was born and raised in Montgomery, Alabama. Cameron grew up tromping around in the Mobile-Tensaw Delta and found her first love, water. Determined to somehow transition a fervent hobby into a career, she moved to Charleston, SC to obtain a degree in Marine Biology. For nearly two decades Cameron ran the professional gamut of working in the academic, private and government sectors as a scientist. She says, "It is with sincere gratitude and earnest anticipation that I step into the role  Riverkeeper at Apalachicola Riverkeeper."
Cameron explains, "When I first moved to Apalachicola  to work as a scallop biologist with FWC, I noticed a trend of nearly everyone I became friends with had volunteered their time with Apalachicola Riverkeeper. So, I began volunteering. And serendipitously I discovered Apalachicola Riverkeeper's goals and my goals are aligned: to create a strong, cohesive network of stewards to protect and restore the Apalachicola River and Bay."
A hard fast hydrophile, with a drive for problem solving, look for Cameron Baxley somewhere in, on, near water trying to fix something.
Georgia Ackerman joined the Apalachicola Riverkeeper team in 2017. She was involved with Apalachicola Riverkeeper for over a decade as a business sponsor, outings program volunteer and board member.
A former kayak instructor and river guide, Georgia ran a north Florida ecotourism company for nearly a decade where she spent time learning about the Apalachicola River system and began volunteering with Apalachicola Riverkeeper.  After selling her business in 2013, she was recruited to lead a regional conservation awareness initiative at Tall Timbers in Tallahassee. Georgia has also worked with the Red Hills Small Farm Alliance to help promote local, sustainable farming. Prior to moving back to Florida in 2001, she worked in children's advocacy and taught at Arizona State University. Georgia believes outside play and wild places are fundamental to both the health of humans and the planet.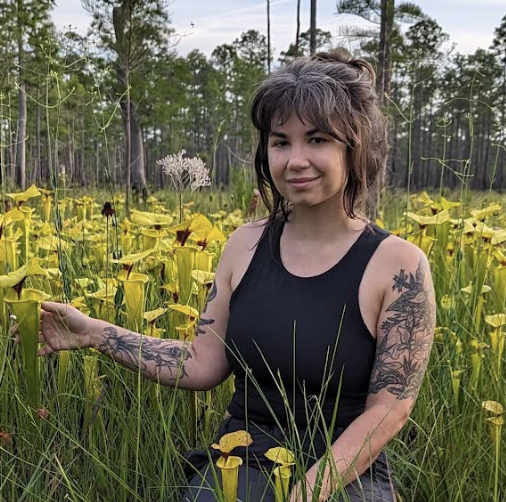 Dani Davis, though a native Floridian, grew up on the northern outskirts of suburban Atlanta. Here, she found her home exploring the forests and creeks of southern Appalachia. This love for wild spaces eventually brought her to Tallahassee to pursue a master's degree at Florida State University, where she studied barrier island ecology in the shores of St. George Island. Since moving to north Florida, Dani has gotten as involved as possible in local conservation organizations and is honored to join Apalachicola Riverkeeper in their mission to protect a region that she is so passionate about.  
If she's not around, Dani can be found exploring bogs, paddling under cypress trees, or making art that highlights the unique biodiversity of our region.
Susan Macken, a native Georgian, spent countless childhood weekends exploring stretches of the Ogeechee River, a beautiful black water river near her hometown. This instilled in her a lifelong love of waterways. She first visited the Apalachicola area in the mid-eighties and was quickly pulled in by its vast natural beauty, returning again and again over the years. As she explains, "I wasn't born here but I got here just as fast as I could." Prior to relocating to the Apalachicola River region thirteen years ago, Susan worked as a special education teacher and administrator in several north Georgia school systems.
Susan is a longtime supporter and member of many local, regional, and national environmental organizations. As Administrative Director at Apalachicola Riverkeeper, she manages our membership databases, online store, and fields phone calls and email inquiries from both visitors and citizens throughout our basin. Susan also keeps the two Scipio Marina office cats spoiled with kitty treats. She loves all animals.
When she's not in the office, you'll probably find Susan on one of her frequent beach rambles, exploring and photographing the area she now calls home.