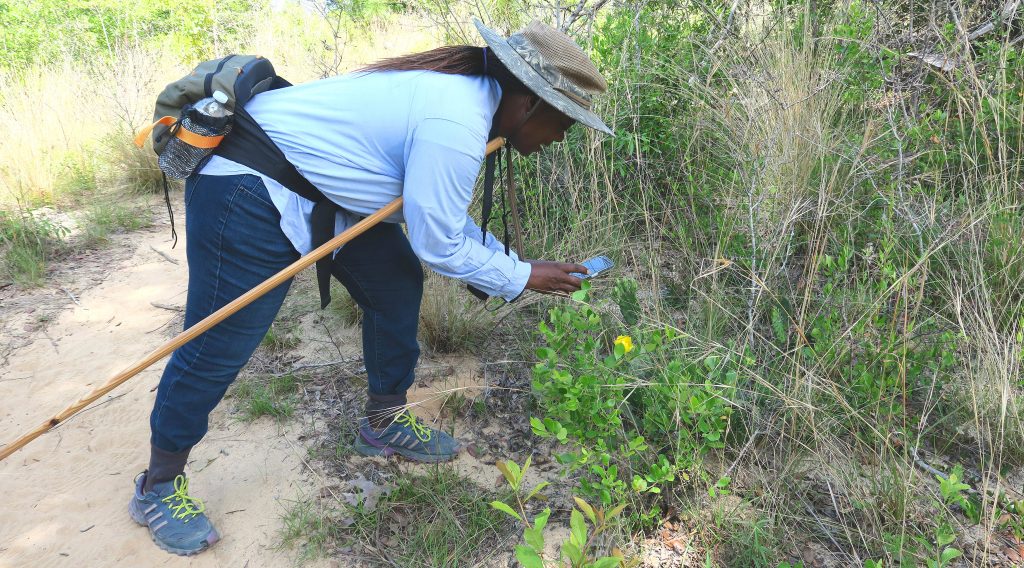 Paddling Trails
Apalachicola Blueway: Coordinated by Apalachicola Riverkeeper and established in cooperation with the Florida Office of Greenways and Trails, the Blueway features a data book and detailed maps for the entire 107-mile Apalachicola River.
Apalachicola River Paddling Trail System – Coordinated by the Florida Fish and Wildlife Conservation Commission (FWC), several side creeks in the lower Apalachicola Basin are featured, including Graham Creek, East River, Thank You Ma'am Creek, Montgomery Slough, Saltwater Creek, Whiskey George Creek, Cash Creek, Caesar Creek, Acorn Lake, and Saul's Creek. Some routes include primitive campsites.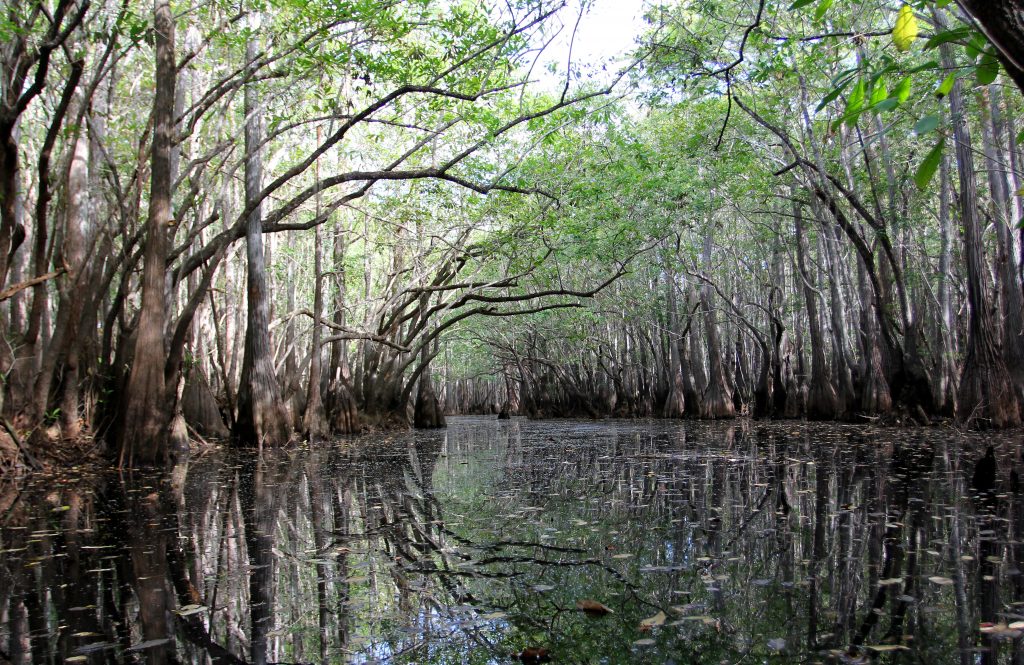 Owl Creek – Owl Creek, off the main Apalachicola River channel at river mile 22, is a scenic wonderland of cypress and tupelo gum trees with several canopied side channels, including Devon Creek, about halfway between Hickory Landing and the Apalachicola River (see map). This side creek and others like it are only accessible during higher water levels. The main access point for Owl Creek is Hickory Landing, a U.S. Forest Service ramp and primitive campground (see link for directions). From the landing, you can paddle 1.5 miles downstream to the main Apalachicola River (left if you are facing Owl Creek from the landing). There is little or no current. About 2 miles upstream of the landing, there is a fork. The left fork goes about 1.5 miles to Little Owl Creek where it becomes very narrow. The right fork becomes Black Creek and goes about 2 miles or more and becomes narrow. How far one can explore up the right or left fork depends on water levels and the presence of snags, but there are miles of good paddling on Owl Creek.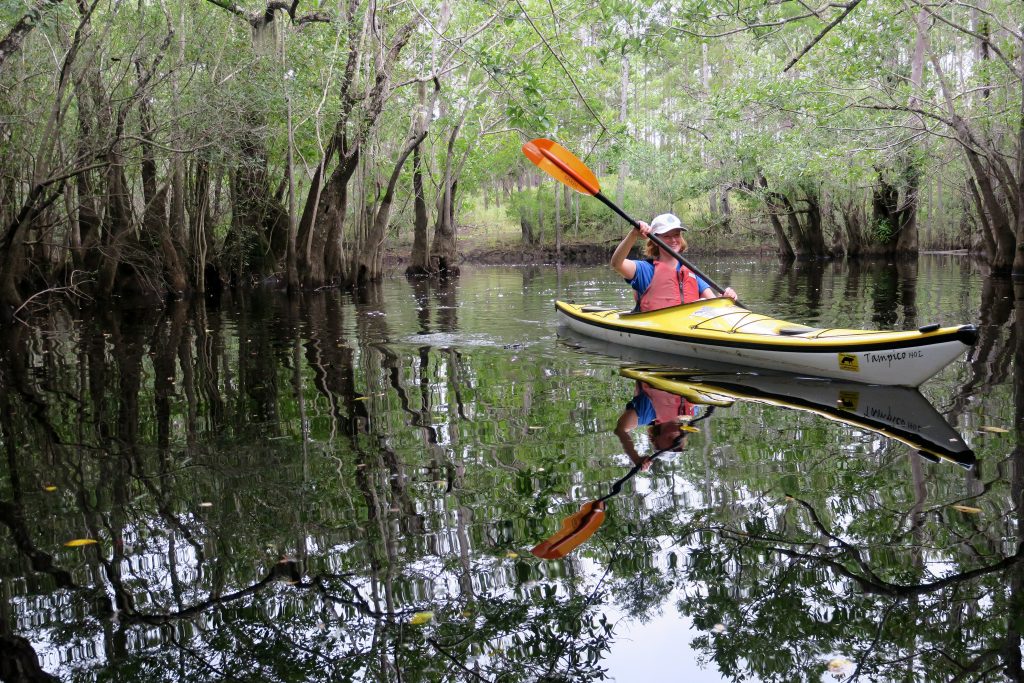 Black Creek – This is a highly scenic blackwater stream with little current, suitable for kayaks, canoes and small fishing boats. If paddling upstream from the launch at Forest Road 101-A, the creek is lined with cypress and tupelo gum and canopied much of the way to Sumatra, about 1.5 miles. You can also paddle downstream about a half mile to Owl Creek and explore the scenic upper Owl Creek or paddle about two miles downstream to Hickory Landing. You can't go wrong by paddling any direction on Black Creek! To reach the launch from State Road 65, turn west on Forest Road 101 (Wright Lake Road about 2 miles south of Sumatra) and travel .6 mile. Take a right on 101-A at the power line and travel 1.3 miles to the sand launch. The road is generally in good shape except after heavy rains.
Kennedy Creek – Upper Kennedy Creek near Sumatra is a swampy wonderland if water levels are high enough. You can kayak a couple of miles upstream and downstream from Cotton Landing, but the channel is not always obvious. A GPS unit will be helpful. Large and gnarly cypress trees will be of special interest. Snags from Hurricane Michael still may prevent access to the Apalachicola River from Cotton Landing. To reach Cotton Landing, take the paved County Road 379 north from Sumatra about 3 miles to Forest Road 123 on the left, marked by a sign for Cotton Landing. Forest Road 123 is like a loop and both branches lead about 3 miles to 123B, which takes you about a  mile to Cotton Landing. There is not a Cotton Landing sign at the 123B junction, so look for the numbered road sign.
Fort Gadsden Creek/Poplar Branch/South Prong – One of the more remote creeks in the Apalachicola Basin that is typical of the scenic cypress/tupelo gum waterways of the region, Fort Gadsden Creek is accessed from a small primitive launch area a short ways from SR 65. If heading downstream, the creek widens considerably at the South Prong fork after about a half mile and the Apalachicola River is 2.8 miles from the launch. More importantly, the canopied Polar Branch is about 2.1 miles downstream on the right. You can paddle about 1.5 miles down Poplar Branch, admiring the many unusual small and twisted ancient cypress trees. There is no other access to Poplar Branch. You can also explore about two miles of the South Prong (see map), which becomes another striking canopied waterway. To reach the launch, travel either 17.5 miles north on SR 65 from US 98 near Eastpoint or 6.7 miles south of Sumatra on SR 65. At the Helispot 34 sign across from Forest Road 143 (Randy Sapp Road), turn west and drive only 319 yards before turning right. The launch is 220 yards ahead. The sand/limerock road is passable except after severe weather.
Chipola River – A scenic 51-mile paddling trail that includes numerous springs and the only consistently dry cave along a Florida river.
Upper Chipola River – 4.5-mile paddling trail above Florida Caverns State Park that is wild and scenic with some side springs, but prone to snags during low water levels.
Merritt's Mill Pond – A 4-mile spring-fed lake that is known for its clear waters, deep springs and cypress trees. During the summer months from May through August, the Jackson County Blue Springs Recreation Area (5461 CR 164, Marianna) offers easy access.
Ocheesee Pond – Ocheesee Pond boasts a 5.2-mile loop paddling trail through a scenic cypress swamp. Only the southern end of the pond would be considered open water. The Jackson County Parks and Recreation Department has marked an easy-to-follow trail with yellow blazes. The pond is home to a vast array of birds, mammals and aquatic life. The pond was also the place where a supposed skunk ape was captured in 1884. Click here to learn more. Ocheesee Pond is easy to reach since it is just north of Interstate 10 south of Sneads (Exit 158, then north on CR 286 for 1.9 miles, left on CR 280 for 2.8 miles, and then right on Arkansas Road and follow .3 mile to county boat ramp).
Dead Lakes from West Arm – The Dead Lakes near Wewahitchka was originally formed when a sandbar partially blocked the flow of the Chipola River as it drained into the Apalachicola River. This inundated the floodplain permanently and killed thousands of trees, leaving their ghostly husks behind, and the cypress trees that survived are often old and twisted. A scenic access to the Dead Lakes is from Dead Lakes Park along the West Arm (click here for map to 416 Rowell Rd., Wewahitchka, 32465). West Arm winds about 1.7 miles to the main Dead Lakes body whereupon you can make a circuitous paddle of any length you wish. Just make sure you have a GPS device to relocate the entrance to West Arm. It is also marked by an old cypress trunk with several reflectors tacked onto it.
Cypress Creek/Upper Dead Lakes – This scenic cypress and tupelo lined creek runs about 1.3 miles to the upper Dead Lakes where you can explore various braids and side channels. A GPS is highly recommended. You can also explore the more narrow western part of Cypress Creek from the ramp. To reach the Cypress Creek ramp from the south, travel about 9 miles north of the downtown Wewahitchka IGA store on SR 71. Just past the SR 73 intersection on your left, turn right off of 71 onto 73A. The intersection should be marked by a boat ramp sign. Travel a half mile and turn left onto SE Nadine Stone Landing Road (73B). Travel a half mile to the launch. From the north, head south on SR 71 from Blountstown. 5.5 miles past Scott's Ferry on the Chipola River, turn left onto 73A at boat ramp sign and use directions above.
Scipio Creek – Scipio Creek is a scenic 2.5 mile coastal waterway (one way) that runs parallel to the Apalachicola River. There are also shorter offshoots that can be explored (see map). It can be accessed from a public launch at the northern end of Market Street in Apalachicola on the right.
Seafood Landing Park Island Circumnavigation – Seafood Landing Park is two miles west of downtown Apalachicola along U.S. 98. An old spoil island that is now heavily vegetated is across from the park and a circumnavigation of the island is about two miles. The western shore of the mainland is also scenic and undeveloped and worthy of exploration. Be sure to check marine wind forecast before embarking.
Depot Creek/Lake Wimico – Depot Creek and Lake Wimico are known for abundant wildlife and remoteness. Depot Creek is accessed from Odena Landing just off US 98. From the east, travel on US 98 5 miles past the 30A Fork to Jones Homestead Road. Turn right and travel a quarter mile to Odena Landing. From Port St. Joe, travel east on US 98 7.8 miles past the 30A fork. Turn left on Jones Homestead Road. Once launched, you can explore to the west of the landing about 3-4 miles until the creek becomes too narrow or clogged. Northeast of the landing, the creek is navigable 5.5 miles to Lake Wimico. Be aware of wind forecast before entering Lake Wimico.
Florida Circumnavigational Saltwater Paddling Trail (segments 4 & 5). Download text guide and map book for each segment.
Segment 4: This segment runs from St. Joseph Peninsula State Park to St. Georgia Island State Park for a distance of 57 miles. It traverses Apalachicola Bay along the inside of St. Vincent Island, Cape St. George and St. George Island and it includes several primitive campsites and one commercial campground. This is for experienced open water paddlers in sea kayaks.
Segment 5: Running about 100 miles from St. George Island to the Aucilla River, this segment includes the Crooked River, lower Ochlockonee River and Apalachee Bay. Several primitive campsites and a commercial campground are included. This is for experienced open water paddlers in sea kayaks unless paddling the more protected Crooked River.
New River – The New River in Tate's Hell State Forest is a scenic, completely undeveloped blackwater stream with numerous twisted and gnarly cypress and tupelo gum trees. The upper reaches are only accessible during higher water levels and snags may still be present. Several primitive campsites that can be reserved line the river. Here is a map of the river and campsites and click here for information about each one. Trip suggestions can be found here.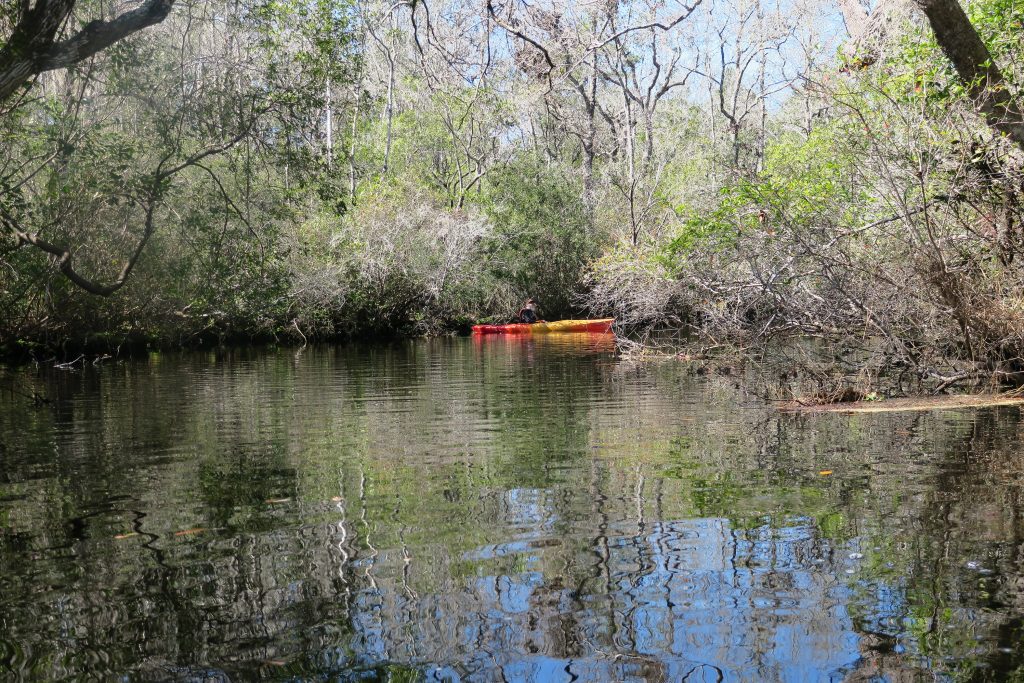 Crooked River/Brandy Creek – This is an easy scenic paddle with little current. From the Rock Landing Campground in Tate's Hell State Forest, it is two miles to Brandy Creek on river right. Brandy Creek is open for about 1.5 miles before narrowing considerably. You can explore until snags might prevent passage. Rock Landing Campground is at east end of Rock Landing Road. Go north out of Carrabelle on CR 67 about 10 miles to turn right (east) on Rock Landing Road. Campground is 2.6 miles down lime rock road and follow sign to landing.
Story Maps
Florida State University students Tyler Osha and Dasha Kosheleva created story maps of some of the Apalachicola Basin's many hiking and paddling trails as part of the Sustainability Fellows Program.. Check out Tyler and Dasha's story map project. Here is a video of Tyler and Dasha's presentation about the project. Check out a PowerPoint about trails of the Apalachicola Basin.
Hiking Trails
Hinson Trail (Marianna): Managed by the City of Marianna as part of the Hinson Conservation and Recreation Area, this is a four mile loop trail in rugged terrain that offers scenic views of the Chipola River and access to sinkholes and a small cave.
Citizens Lodge Park (Marianna), 4574 Lodge Drive off Caverns Road: Also located on the Chipola River, the parks features six trails from a half mile in length to two miles.
Three Rivers State Park – Located along Lake Seminole just above the Jim Woodruff Dam, the park offers four self-guided nature trails that total five miles. Bicyclists can utilize seven miles of trails and park roads.
Torreya State Park – Located between Bristol and Chattahoochee on the east side of the Apalachicola River, this park is known for its rugged hiking, a place where many Floridians prepare for mountain backpacking trips. There are 16 miles of trail along river bluffs and through steephead ravines and two primitive backcountry campsites. Several rare species of plants and animals live in the park and a trail highlight is a Roman-style stone bridge built by the Civilian Conservation Corps.
Garden of Eden (Bristol) – 3.7-mile round trip trail through rugged steephead ravines. The culmination is a broad view of the Apalachicola River from the 135-foot summit of Alum Bluff, the largest geological exposure in Florida. Find out why local legend claims it is the site of the original garden of eden.
Florida National Scenic Trail – The Apalachicola National Forest section of this 1,400-mile hiking trail includes large swamps and vast pinelands. It crosses the Apalachicola River along Highway 20 between Bristol and Blountstown. Besides utilizing the web link, hikers should also purchase applicable maps (09-10 for this section) and download a data book for the Eastern Panhandle from the Florida Trail Association.
St. Vincent National Wildlife Refuge – Accessible by boat for day-use only, the island features many miles of hiking trails on unpaved roads. One can also hike along the island's wild beach. From Indian Pass at the end of Highway 30-B, it is a quarter mile by boat to the island. There are no facilities on the island and bugs can be thick in late spring and summer.
St. George Island State Park – Besides miles of undeveloped shoreline to walk on and explore, the state park features the 2.5-mile Gap Point Trail that begins in the campground and meanders through a coastal forest to scenic Gap Point along Apalachicola Bay. Decades ago, workers used to "cat face" the slash pines here to gather sap to make turpentine and you can still see the scars if you look near the base of the older trees. Another trail is the one-mile East Slough Overlook Trail. Read a blog about a hike on the Gap Point Trail.
High Bluff Coastal Trail (Tate's Hell State Forest) – Two trail loops are featured for a total of 8.7 miles, accessible between Eastpoint and Carrabelle along US 98. The trails primarily skirt along a high ridge through coastal pine forests.
Apalachicola National Estuarine Research Reserve: Encompassing over 6,800 acres adjacent to the Apalachicola River and Bay, the Reserve offers miles of primitive hiking trails and boardwalks through beautiful oak scrub, coastal grasslands and hammocks, salt marsh, flatwoods, interdune swales, and undeveloped beach front. From the Nature Center Boardwalk and Cat Point Trail in Eastpoint to the matrix of trails at Unit 4 and Nick's Hole on St. George Island, hikers can select from variety of trail types and distances, with no shortage of great views. The most challenging trails can be found on Little St. George Island, which is only accessible by boat.
Bike Trails
Blountstown Greenway – This 3.3-mile paved multi-use trail extends from the Apalachicola River at Neal's Landing to Sam Atkins Park. A popular stop and trailhead is the M & B Trail Depot Park in downtown Blountstown.
St. George Island Bike Path – A fun way to experience St. George Island, this 6-mile paved bike path extends from just outside the private St. George Plantation community to St. George Island State Park, paralleling Gulf Beach Drive. Bike rentals are available on the island along with ice-cream, good food, an historic lighthouse…