October 24, 2022 – By Doug Alderson
Along the high banks of Blountstown's Neal Landing, the 2022 RiverTrek crew were presented an overview of the region's Native American history by noted historian Dale Cox. "Native American roots here go back more than 10,000 years," Cox said, "Especially in the Chipola River valley."
Cox explained that the first native groups came to this area during the Ice Age following herds of game animals. Clovis spear points were found embedded in bones of animals such as mastodon and giant sloth, animals now extinct. Eventually, Native Americans established large villages and built huge temple mounds on both sides of the river, two of which face each other near Blountstown and Bristol (Cayson and Yon Mounds). But the mound builders had largely died out before the Spanish arrived around 1500, perhaps due to drought, and the Cayson Mound is now surrounded by an industrial site.
"Civilizations rose and fell along this river thousands of years before Atlanta," Cox said. "But the river is still here."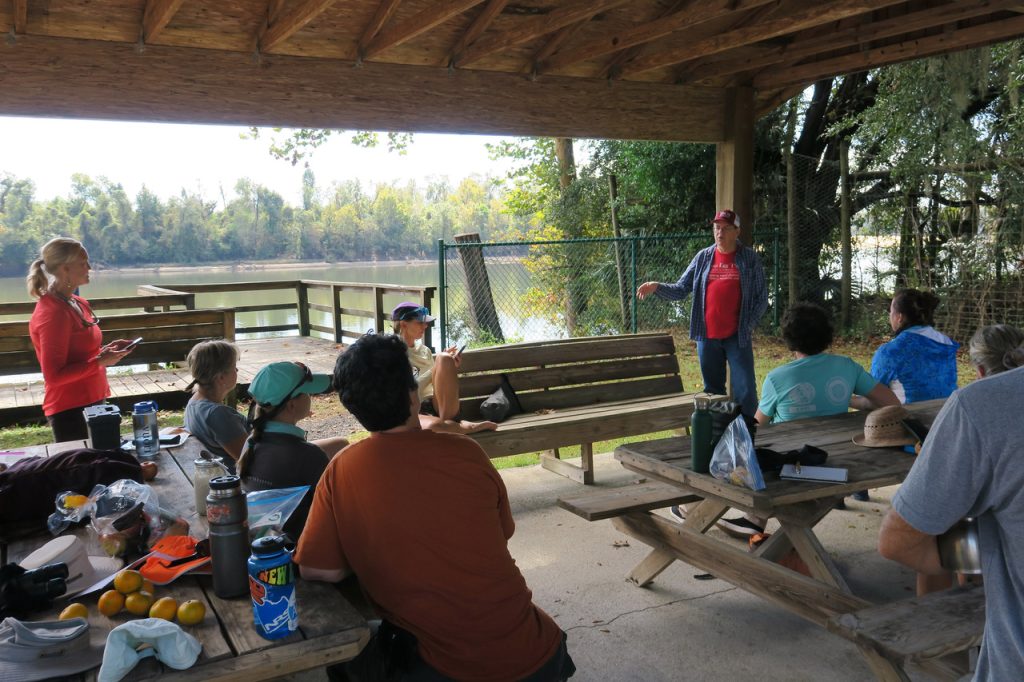 Cox went on to describe more recent history involving the first Seminole war and its aftermath. The area of Neal Landing was once called Spanish Bluff. John Hambly, who married a Creek woman, established a trading post on the bluff, one that was eventually run by his son William. William rescued several survivors after the explosion of  the "Negro Fort" at Prospect Bluff in 1816 by U.S. troops, but one by one, they died of their extensive wounds. Cox noted that Hambly's attitudes about slavery changed after the incident, as revealed in his letters.
John Blount, for whom Blountstown is named, was a Creek chief who fled to the area after the Creek Civil War in Alabama in 1813-14. Cox explained how Blount did everything he could to assist the American government and military in order to remain in the area, but he was later forced to move to Texas, which was then part of Mexico. Some of Blount's people remained in the area and a few returned to Blountstown and resettled, one reason many current residents have Muscogee Creek Indian lineage. A few still carry on traditional ways.
Near the end of his talk, one which covered thousands of years of history, Cox posed thought-provoking questions to provide some perspective: Will the cities of Columbus and Atlanta be here in a thousand years? And what will the Apalachicola River be like then?
After the talk, as if by design, Cox and others walked to the river overview and, due to low water levels and surprising clarity, spotted the remains of a paddlewheel steamboat near the shore. Several boats sank near Neal Landing and Cox was going to do more research to see if he could determine the name of this one. It was another reminder of a bygone era along the Apalachicola River.
For the next several days, as the RiverTrekkers made their way down the river in a manner similar to those early Native Americans in pine and cypress dugout canoes, Cox's talk was a frequent topic of discussion, helping to enrich their understanding of the river's long history.
More Information:
Prospect Bluff: Part of the Underground Network to Freedom